DASH
We're not going to tell you what it means, ask a student!
At St. Andrew's, we believe that every student who comes through our doors is a uniquely crafted creation, made in His image; worthy of value, dignity and unconditional love. We long for our youth to know that they can boldly approach the throne of God confident of His enormous love for them, knowing they are His pride and joy, that His heart breaks with theirs and He cries at their pain.
At DASH, our student ministry, we desire to helping adolescents to become disciples who make disciples, by demonstrating, teaching and loving them through a relational Gospel-oriented, Christ-centered community that is attractive to the outside world for its authenticity and love for God. It is our hope that our students leave for college knowing who they are, whose they are and what their calling is. Everything we do is bathed in the idea that our God is exciting, passionate, fun-loving, laughing, relational, and intentional with each of us. If you think God is boring, than you have the wrong God.
The students thoughts and opinions on the direction and shape of their student ministry is greatly encouraged. After all, it is for them. We are small enough to know everyone, but big enough that no one has to be alone.
SUNDAY MORNINGS
Sunday school is a relaxed, co-ed, small-group setting that encourages discussion, ranging from practical to abstract, pertaining to the Sunday scripture readings and sermon.
WEDNESDAY NIGHTS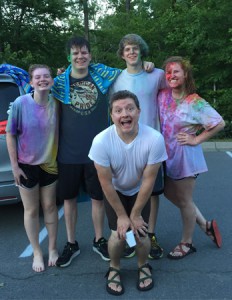 Students gather at 6 p.m. to share a meal together; singing, teaching and discussion follow. It is an upbeat, fun night built upon the foundations of Scripture and how the truths of the Bible are connected to each other through calling, community, serving and loving in the manner of Jesus Christ who leads us into a life of adventure. This group is increasingly diverse (race, parent situation, socioeconomically, etc.), and the message is geared for believers and non-believers alike.