Save the date for a party!
Sunday, June 5
Wear red on June 5 to celebrate Pentecost Sunday—the day we remember and celebrate the gift of the Holy Spirit to the church. This year, we are going to commemorate the day the Christian church began with a special celebration between services (there will be no Sunday school for kids or adults that day). We'll have fancy donuts, good coffee and great fellowship.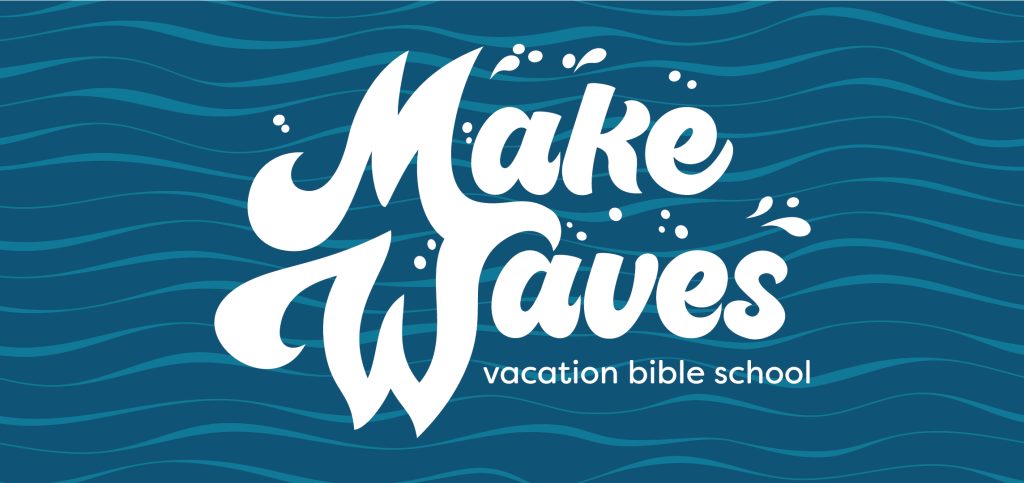 June 13-15 | 6:30-8 p.m.
Celebration: Friday, June 17 | 6-8 p.m.
We think it's possible for kids (and adults!) whose lives have been touched by God's love to create a ripple effect that can impact the world around them in ways they will never forget. God dropped you onto this planet to do the same thing—so let's make some waves!
We invite parents and guardians to join their children for this family-oriented VBS. Please register BOTH children and adults so that everyone has a place at the table (and gets a t-shirt!).
WHY ARE WE SWITCHING THINGS UP???
We know this is a different style from the way we've done VBS in the past, but that's an intentional move: YOU are the most influential person in your child's life, and we want to pair our discipleship efforts with yours by inviting your leadership into this space. You'll be equipped with the discussion guides beforehand and everything you need to lead your family/table each evening.
Parents, not able to attend? Don't worry, your children are still able to register. However, we do encourage you to attend if at all possible.
Monday, Tuesday and Wednesday will be a similar schedule format with worship, lessons, discussion, crafts and snacks. Friday evening will be a party at the pavilion.
PLEASE NOTE: Registration for birth-toddler 2 is ONLY available to those parents who will be present. Toddler 3 and up will be with their families in the sanctuary for the full evening.
BY THE GRACE OF GOD
THE RIGHT REVEREND PHILIP H. JONES, LEAD BISHOP
IN THE ANGLICAN MISSION WILL ORDAIN
ANTHONY DAVIS

TO THE SACRED ORDER OF PRIESTS
IN CHRIST'S ONE, HOLY 
CATHOLIC AND APOSTOLIC CHURCH
SATURDAY, JUNE 18
IN THE YEAR OF OUR LORD, TWO THOUSAND TWENTY-TWO
AT ONE O'CLOCK IN THE AFTERNOON
RECEPTION TO FOLLOW IN THE COMMONS
ST. ANDREW'S CHURCH
8300 KANIS ROAD | LITTLE ROCK, ARKANSAS
YOUR PRAYERS AND PRESENCE ARE REQUESTED
AND GREATLY APPRECIATED.